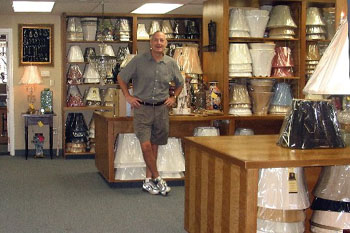 A shade from BrownsLampshades.com is a shade of quality.
Each of our shades is framed in thick steel wire gauge, from the top of the shade to the bottom so that it will keep its shape for years to come. Thick fabric lining ensures that the light bulb doesn't show through the shade, and that light from the light bulb is dispersed soft and gently. Each shade is sent wrapped in heavy plastic wrapping so that it arrives to you clean and dust free.
Satisfaction Guarantee
If you are not 100% satisfied with your shade purchase, we will accept it back no questions asked for a full refund or exchange.
BrownsLampshades.com is a family business established in 1945. We currently run 3 retail stores in our town of Zionsville, IN. When you call the toll free number- you are going to speak directly to David- so he can make the process as simple and enjoyable as possible.
Please remember to tell your friends about our wonderful selection of the highest quality lampshades available.